11/16/2022
Convention against asbestos and its consequences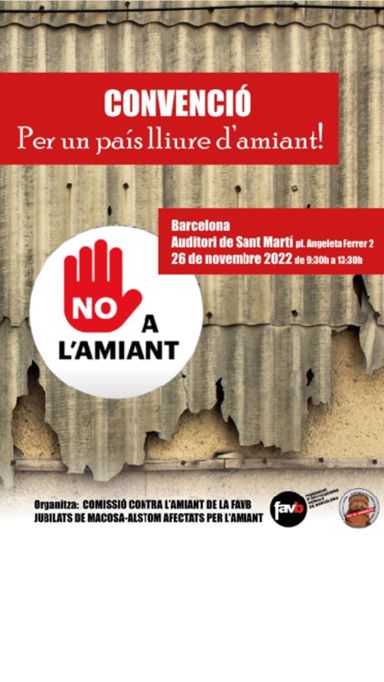 The collective of Macosa-Alstom Retirees Affected by Asbestos, together with the Federation of Neighborhood Associations of Barcelona, organized for November 26th, at the Auditorium Sant Martí, the first Convention against asbestos and its consequences. Program and inscriptions here.
The eradication of this element, considered a first degree carcinogen and which is present throughout our territory, requires the involvement of multiple sectors: administration, professionals and specialists, citizens and neighborhood movements. Without this joint will, it will not be possible to remove all asbestos in ten years (six in public areas), as indicated in the European guidelines. This convention should serve as a meeting point and a turning point to mobilize all the sectors involved. The convention counts on the presence of doctors and researchers from the medical community, professionals with expertise in the treatment of ACM, lawyers who will discuss the legal framework that we must provide and social movements that are witnesses of the deadly consequences of asbestos will be present.
In order to guarantee the highest level and richness in the debate, we are planning the presence of several speakers from other countries. The objective of the Convention is to influence the administration and the different levels of our society to assume with determination the total eradication of asbestos. The Convention will conclude with the reading of a manifesto where the main challenges to overcome will be marked, such as the immediate need to have a correct census of asbestos, the provision of infrastructures sized to adequately accommodate the waste of the more than 4.2 million tons of asbestos cement estimated to exist in Catalonia and the approval without further delay of the National Plan for the Eradication of Asbestos with its corresponding economic allocation.